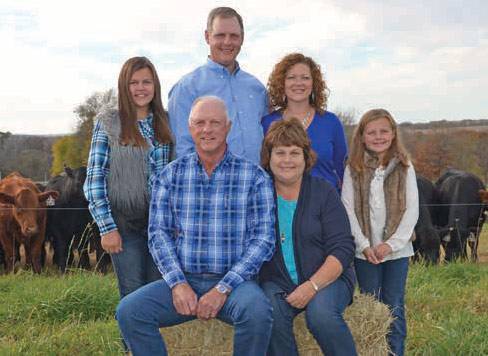 At the Oval F Ranch in northwest Missouri, we believe in sound, productive, big bodied cows that can have a calf and raise it. We use EPDs to help improve all economical traits and appreciate productive females with eye appeal.
We started in 1971 (ASA# 2729) with the purchase of 7 Parisien daughters bred to Bismark and have turned 18 generations from one of those heifers including our Princess and Julie lines, all AI sired. Our Oval F Linda L320 cow is a story in herself and has produced many popular sale cattle at the Wild Wild West and other national sales. We believe in the ASA slogan "The Cow Makes the Difference".
We have also been successful in the bull department. We were fortunate to own and show AR Extra 8J to the Grand Championship at the National Show and all other major Simmental shows in 1979-1980. We are the breeders of Oval F Ringleader, Oval F Cool Dude, Oval F Echo (Ruby Cattle Co), Oval F Flash (Hart Simmentals) and more. Our bulls are marketed through private treaty and we are proud of the repeat business from commercial cattlemen in our area.
We are located in fescue country in the rolling hills north of Kansas City. Our cattle are handled much like our neighbors' commercial cattle. We do not creep feed and what you see is what you get
We are serious about breeding Simmentals with COW POWER production in mind. Give us a call. We enjoy visiting about Simmentals and showing off our cow herd.
All females OCV'd and tested BVD PI negative.
Oval F Family